The Importance of Social Media Marketing for Small Businesses
Our Social Media expert, Hannah Kilpatrick, aims to create targeted and highly effective campaigns across several social platforms. She says,
"social media can have a significant impact when it comes to promoting a small business. It helps to foster a positive link with your clients and allows local businesses to compete with larger enterprises."
Social media networks like Facebook and Instagram are ideal for promoting your brand, goods, and services since they can help to:
increase website traffic
increase consumer involvement
have the potential for lead creation.
Oftentimes these platforms will allow SMBs to remain competitive by enabling you to engage with your potential clients and monitor what other companies are doing.
Social Media Users Increase Everyday
"In 2020, over 3.6 billion people were using social media worldwide, a number projected to increase to almost 4.41 billion in 2025." (Source: Statista) With more users on these platforms, the more clients you will find. However, it will require you to have a solid social media marketing strategy in place if you hope to reach your audience.
Social Media Users Are Spending Hours on the Platforms
Typical social media users will spend more than two hours every day on the platforms. WNC small businesses have additional options to reach clients as more people spend time on these sites. However, it also means that there is more competition. There are numerous marketing agencies that can assist startups in reaching out to their clients. Cube Creative Design, a social media marketing agency in Asheville, is one such digital marketing firm that specializes in this.
Users Will Search Social Media for Businesses and Products on the Platforms
GlobalWebIndex in 2018 surveyed 8,200 people aged 16-64 and determined in one month that 54% of them use social media to research products. It is also interesting that nearly 4 out of 10 of them visited and liked or followed a brand.
With statistics like that, an Asheville-based small business can leverage the power of social media to increase brand awareness among people in WNC. People tend to follow brands that share their values, and brands that are active and engage with their users will gain greater traction.
What Are the Main Benefits of Each Social Media Platform?
Did you know there are hundreds of social media channels on the internet, with more coming out each day? However, four stand out based on their popularity and the number of active users on these platforms.
Think about this, if Facebook were a country, it would be the largest in the world. It boasts over 2 billion daily active users. It should be a no-brainer that your businesses should have a Facebook presence. Facebook is ideal for sharing media content with your clientele and keeping them up to date on any business changes, such as introducing new items, changes in shop hours, and impending discounts. Users on this platform range between the age of 20 and 65.
Twitter is great at getting the word out about a new product or an upcoming event. It's also a free way to listen to your client's likes and dislikes, monitor conversations about your brand, and what suggestions they have for improvements—users on this platform range between 18 and 49.
Instagram is all about visuals. It is the perfect platform to showcase your business's visual and creative side—users on this platform range between the ages of 18 and 35.
Pinterest connects users together through shared interests like photography, cooking, fashion, crafting, wedding planning, etc. It also allows users to save pins and add them to their customized boards—users on this platform range between 18 and 50.
Benefits of Social Media for Brand Building
1. Increase Brand Awareness
With more than half of the world's population using social media, sites such as Facebook, Instagram, and Twitter are obvious places to reach new and highly targeted potential clients.
Think people only connect with brands they already know on social media? Ipsos a Meta commissioned a survey of 21,000 people worldwide in November of 2018 and found that 100% said they used Instagram at least once per week, and 83% of discovering new products or services on the platform. (Source: Instagram)
2. Humanize Your Brand
One of the most important advantages of social media for business is the ability to make genuine human connections. Introduce your followers to the individuals that make up your organization and demonstrate how current clients use and profit from your goods or services.
Authenticity helps to build trust. In turn, trust builds marketing receptiveness and will help to drive new business, and social media is one of the best places to do it!
Small businesses, such as yours, should embrace your values, how you're putting the interests of your employees and clients first, and show how your product works in real life.
3. Establish Your Brand as a Thought Leader
According to the 2021 Edelman Trust Barometer, while there has been a recent shift toward distrust of government, non-governmental organizations, and the media, businesses are institutions with a 61 percent degree of trust. People turn to companies for insights and information, and there's no better place to deliver it than on social media.
Whatever industry you are in, social media allows you an opportunity to establish yourself and your small business as a thought leader or the go-to source for knowledge on matters connected to your industry and, more importantly, how it affects Western North Carolina.
4. Stay Top of Mind
Seven out of ten Facebook users say they visit the site daily, according to a 2021 study by the Pew Research Center. The same study also found that half of the respondents admit to checking social multiple times per day.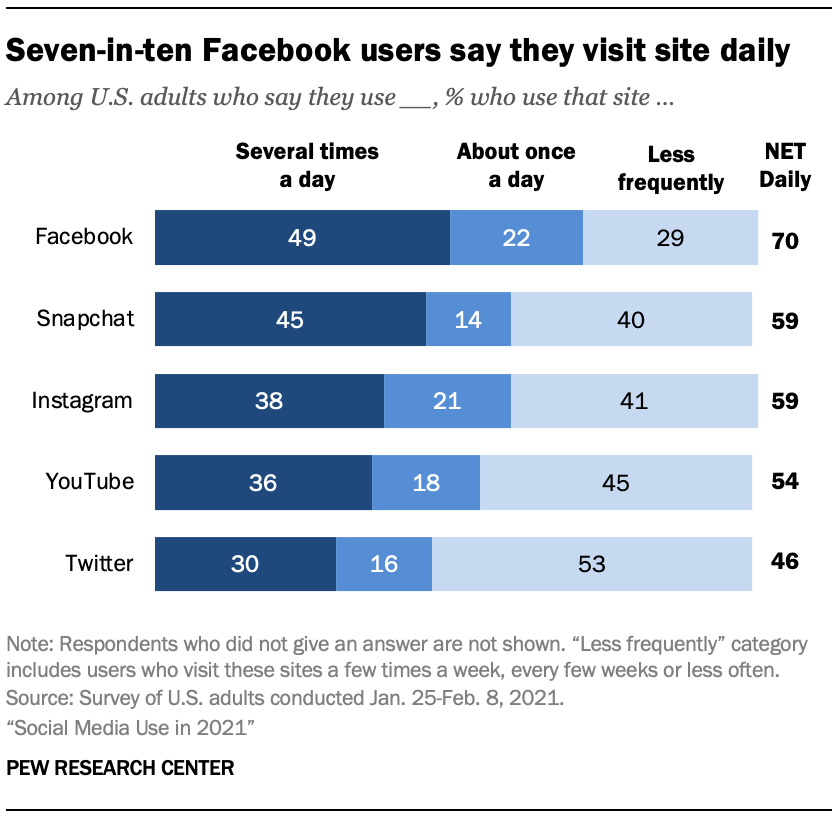 Every time a fan or follower logs in to social media, you have the option to connect with them. Keep your social postings engaging and educational, and your followers will be happy to see your fresh content in their feeds, keeping you top of mind, so you're their first stop when they're ready.
Benefits of social media for growth
5. Increase Website Traffic
Social media postings and sponsored posts are effective techniques to generate visitors to your website. Posting unique information from your blog can be a terrific strategy to acquire viewers as soon as you publish a new piece. You can also use UTM tracking tags to help track the engagement and ROI of your social posts. Hootsuite has an excellent post about them that you can find here.
Many businesses will tease articles or blog content in their Instagram feed and then direct followers to read the full article via the "link in bio."
Participating in conversations on social media may also help you boost your exposure, attract new users' attention, exhibit your skills, and generate traffic to your website. Just be sure that you are not only promoting yourself but providing genuine value!
Include your website address in all of your social media profiles so that anyone interested in learning more about you can do it with a single click.
6. Generate Leads
Potential clients may express interest in your local small business and services through social media in a low-commitment and straightforward manner. Lead generation is such a significant advantage of social media for local businesses that several social networks.
Social media offers an easy and low-commitment way for potential customers to express interest in your business and products. Lead generation is such a significant benefit of social media for businesses that many social networks offer advertising formats specifically designed to collect leads.
7. Boost Sales
Social networks will become increasingly significant for product discovery and finding service providers as the number of individuals utilizing social media grows and social sales technologies expand. The moment has come to integrate your social marketing activities with your sales objectives.
Benefits of Using Social Media for Content Creation and Distribution
8. Promote Content
Promoting your blogs and content on social media is an excellent way to get well-researched information in front of new people, thus demonstrating your knowledge and expanding your following.
To get the most out of social media for a small business, make sure you have a content marketing strategy in place.
9. Source Content
There are two primary methods for small businesses to get content for social media:
Source Ideas: In order to come up with ideas for content, you may want to ask your followers what they want, ask your fans what they want, or engage in social listening. Simply put, give the people what they want.
Posting material sources: Make a contest or use a hashtag to find user-generated content (UGC) to share. Engaging with your followers can increase brand awareness while also giving you a library of social postings to share over time.
Benefits of Social Media for Communication
10. Reputation Management
Your clients and prospects are already talking about you on social media, whether you are there or not. If you and your staff are on the ball, you can be vigilant and watchful for social posts about your brand. By doing this, you can highlight the positive and address the negative before it turns into a significant issue,
11. Client and Audience Engagement
Social media platforms enable you to communicate directly with clients and followers and provide them the opportunity to interact directly with your company. Unlike traditional media, which only allows for one-way communication, social media allows for a two-way conversation.
You must be engaged if you want your clients and followers to be involved. Maintain an active presence on social media and answer comments and questions on your own postings in a way that is suitable for your business.
12. Customer Service and Customer Support
People expect businesses to be available on social media, and they will seek out their social accounts for customer support. About 50% of social media users want brands to respond to them on social media within three hours. (Source: Khoros)
Benefits of Social Media for Gaining Insights
13. Learn More About Your Clientele
Social media can generate a considerable amount of data about your clients in real-time. Savvy businesses can utilize that data to make better business decisions.
Every major social network provides statistics revealing demographic information on the individuals who engage with your account. This can assist you in tailoring your social media marketing plan to better communicate with your target audience.
14. Gauge Sentiment Around Your Brand
I discussed social media monitoring as a crucial aspect of audience engagement before. However, it is also a valuable source of information about your brand. While it's crucial to understand how much people are talking about you online, it's equally critical to understand what they're saying and feeling about your brand.
Lots of mentions might be a good thing, but if you're receiving a lot of negative comments, you need some quick thinking to figure out what's wrong and fix it fast!
By using social media for business, you can stay on top of users' sentiment and preserve your brand's reputation.
15. Keep an Eye on the Competition
It's also critical to know what others are saying about your competitors.
Tracking discussions on your competitors may indicate pain issues with their goods or services that you may reach out to fix, gaining new clients in the process.
Monitoring your competitors on social media also means you'll be notified when they debut new items, conduct discounts, or share recent reports or statistics.
16. Stay on Top of Industry News
Things move quickly in the online world, and you can't afford to fall behind. Keeping a virtual ear to the ground through social listening is an excellent method to remain up to date on potential developments in your sector that may affect the way you do business.
Benefits of Social Media for Proving ROI
17. Reporting and Analytics
It is always tricky for marketers to demonstrate ROI. However, with social media tracking and analytics tools, you can see the impact of your social media activity, from followers to interactions to sales.
UTM parameters are an excellent tracking tool that can assist you in determining which social networks are giving the most benefits and value to your Asheville Business.
Social Media Is for Being Social, Not "Salesy"
We open Facebook and Instagram to interact with others and our favorite companies and brands. These channels should be viewed as places to be social, not as marketing machines. People don't use social media to hear your sales pitch. They're there to look at pictures of babies, kids, funny videos, see what others are up to, and to ultimately socialize.
Instead of pitching to your followers, consider social media as a means of connecting—answer people's questions to help them out. Create engaging content that will make your fans laugh out loud. Learn about their interests, ambitions, and difficulties so you can better assist them.
The bottom line is you can increase your brand loyalty and credibility by having a solid social media presence.
In Conclusion
As a business owner, you're always looking to improve your brand's visibility and get your small business on people's radar. Social media is a fantastic way to do this, as it helps you engage with people, attract new clients, grow your client base, promote goods and services, and establish your business voice.
When it comes to social media, your primary investment will be time. At Cube Creative Design, we make it easy for you to spend as little time as possible by doing the work for you. Contact us today to see if we can help your Asheville small business with social media marketing.